Driveway Sealcoating for Residential Homes in Columbus
With warmer weather comes preventative maintenance for your driveway or parking lot. Sealcoating is an inexpensive way to extend the life of your asphalt and improve the curb appeal of your property – it also will save you a lot of money over time.
Sealcoating prevents oxidation from the sun, resists gas, diesel fuel, oil, salt and other chemicals which break down the bond between the aggregate and the liquid asphalt -the composition that make up your asphalt pavement. It protects your driveway from damage caused by the winter freeze / thaw cycle that we are all too familiar with here in central Ohio.
We also perform commercial sealcoating services, so if you own a parking lot or business, don't hesitate to check out our Columbus Commercial Sealcoating page!
Cleanliness and Proper Sealant Application is Key
Asphalt gets dirty and oily. Sealant will not adhere to such surfaces. Our expertly trained sealcoating team can guarantee that your asphalt will be cleaned properly, oil spots primed and grass trimmed back to allow the edges to be sealed properly.
We'll seal cracks as well, preventing any water from penetrating the base. Upon completion we will place a temporary barricade at the entrance to deter any unwanted traffic before the sealcoat is properly cured, usually 24 – 48 hours.
Your Driveway Needs REPLACED if it Looks Like This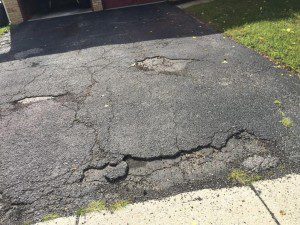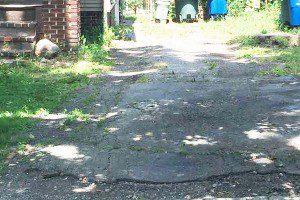 The examples above are driveways that are clearly in need of replacement, because they are beyond broken. There is no question about it, because these driveways are not just "cracked", they are gone. If your driveway looks like one of these above examples, then you should call us to schedule an estimate for a replacement.
Contact Jet-Seal Today for Residential Sealcoating
Routine driveway repair maintenance is key to keeping a beautiful driveway at your home. Sealcoating only costs pennies per square foot as opposed to dollars per square foot for replacement. Your driveway represents a significant investment. Protect your investment! Don't hesitate to REQUEST YOUR FREE ESTIMATE for sealcoating your driveway! Or you can call us at (614) 882-6000!