Jet-Seal Provides Quality Sealcoating Services in Dublin
Jet-Seal, a leading applicator of Brewer Cote asphalt sealer has been servicing the Dublin area since before Jack Nicklaus designed the Muirfield Village Golf Club. Jack worked hard to win eighteen majors during his playing career and Jet-Seal will work hard to earn and retain your asphalt sealcoating business. Whether you are a home owner looking for driveway sealing, a facility or property manager looking for a long-term solution for asphalt preservation, a board member of a condominium association or a member of a church seeking asphalt pavement solutions, Jet-Seal has you covered. Jet-Seal has built an impressive list of customers in central Ohio over the last 60 years and the company continues to add to their list of satisfied clients.
The services Jet-Seal offers; sealcoating, crack sealing, paving repairs and line striping add to the investment homeowners and business owners have already made in their pavement. It's our job to make the asphalt look better and last longer, protecting your investment. Jet-Seal will design a maintenance schedule for your pavement to assure that you get the maximum life out of it. By paying pennies per square foot for sealcoating you will extend the life span of the asphalt by as much as 300%. Who wouldn't want their property to look better while saving money over time?
Pooling together with like-minded neighbors is a terrific way to increase your buying power, saving everyone in the group money without compromising quality. Jet-Seal is in Dublin a couple of times a week, so scheduling is easy. Last year we did no less than a dozen groups in various neighborhoods throughout Dublin including, Meadows at Wyndham Village located at Townsend Rd. and Wiltshire Drive.
One of the shopping centers we service in Dublin is, Shoppes at River Ridge located at the southeast corner of W. Dublin Granville Road and Riverside drive. We were able to crack seal and sealcoat the entire shopping center without causing too much inconvenience to merchants or their customers. We sectioned the complex off into multiple phases to provide continuous access to the stores and the result was astounding. The crisp white lines contrasted on the jet-black asphalt for a fresh new appearance.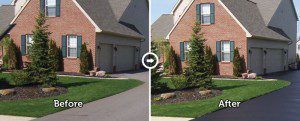 So, if you are looking for top-quality, affordable services by a reputable sealcoating company, look no further than Jet-Seal.  Jet-Seal has an  A+ rating as well as an Angie's List favorite earning the esteemed Super Service Award three consecutive years.
Jet Seal Residential and Commercial Sealcoating –  Dublin Ohio
Driveway repairs needed in Dublin Ohio?  Call Jet Seal today 614.882.6000