Top Rated Jet-Seal Provides Sealcoating Services in Powell
Long term Powell residents are most likely familiar with Jet-Seal and the top-quality asphalt services they provide. As Powell continues to grow many new homeowners may ask the question; who provides quality sealcoating near me? Jet-Seal not only provides driveway sealcoating services but also specializes in commercial sealcoating and related asphalt services. Jet-Seal boasts thousands of satisfied customers in Powell, man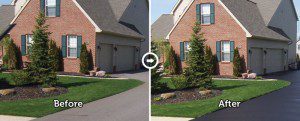 y most likely in your neighborhood. Scheduling the service is easy, all you need to do is request a free estimate. Once you have a quote and are ready to move forward, let us know and we will set a service date. There's no need to be at home while the service is being performed. Most of our residential sealcoating is completed while the homeowner is at work or on vacation. Jet-Seal will trim the grass back from the edges of the blacktop with a string trimmer, clean loose debris with a commercial forced air blower, seal cracks as needed, apply a top-quality sealcoat and provide and install a temporary barricade. All this can be accomplished starting at less than one hundred dollars. Actual cost is determined by the size and condition of the driveway and the amount of crack sealing that may need to be performed.
An effective way to get a discount is banding together with neighbors to receive a group rate. As few as three driveways are required to qualify for a group discount. The more driveways involved, the bigger the discount. Last year we completed no less than a dozen neighborhood groups in Powell including Scioto Chase, located at the intersection of Home Road and Scioto Chase Blvd.
Jet-Seal also has a large base of commercial customers in Powell. Some of these companies include Aeroflex, a high-tech manufacturer, CTV Media, a video production company and Folio, a biotech company. All three are leaders in their respective industries. These are just a few of our commercial customers in Powell. We provide asphalt sealcoating services to several condominium complexes including Bishopsgate Condominiums located on Bishopsgate Lane off Fairway Drive.
Jet-Seal has a five-star rating and has won the coveted Angie's List Super Service Award in 2015, 2016, and 2017. Jet-Seal is a name you can trust. Jet-Seal is a third generation, family owned and operated business. Let our family serve yours, we've got you covered!
Jet Seal Distance to Powell