Jet-Seal Provides High-Quality Sealcoating Services in Blacklick
Jet-Seal, an asphalt and sealing contractor, is a leading applicator of Brewer Cote asphalt sealer in the Blacklick area since the 1960s. We've worked with thousands of homeowners and businesses maintaining their parking lots, sealing driveways, and ensuring the longevity of your driving surfaces. We work hard, day in and day out, to provide the highest quality of service around all of central Ohio, with detail-oriented processes and reliable materials that will last when applied properly.
Whether you are a homeowner, a tenant in an apartment or condo, or you own or lease a commercial property like a restaurant, local shop, or co-working space, Jet-Seal has asphalt pavement solutions for every situation.
Own a home and your driveway's beginning to crack? We can seal those cracks and apply sealcoating to increase the lifespan of your driveway. Have a few neighbors who've been thinking about sealing their driveway as well? We provide a group discount since we're in your area, saving us multiple trips and putting cash back in your pocket.
Is water ponding in your parking lot during heavy rains or potholes forming during the winter? We can help with drainage catch basins and pavement repairs.caused by freeze and thaw cycles.
Are the lines fading in your apartment complex or restaurant? We can make your parking lot look new again with fresh sealcoating, new striping, and beautiful curb appeal.
It's our job to make the asphalt look better and last longer, protecting your investment. By paying pennies per square foot for sealcoating now, you will extend the life span of the asphalt by as much as 300%. Who wouldn't want their property to look better while saving money over time? Jet-Seal will also design a maintenance schedule for your pavement to assure that you get the maximum life out of it.
A repeat customer of ours has been the Hawk"s Crest community off of Taylor road, east of Taylor Station Rd. We've sealed, crack-sealed, and re-sealcoated their streets twice over the past 10 years, extending the life of asphalt significantly without replacement, saving the HOA and the homeowners thousands in repairs. This is just one of many examples of how continuous asphalt maintenance saves everyone money in the long run.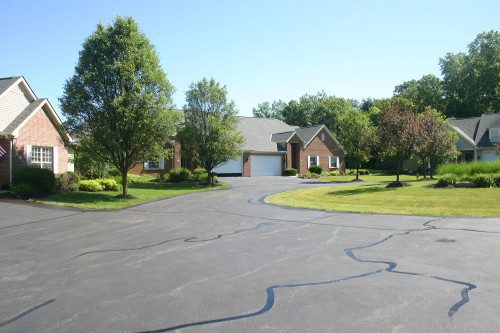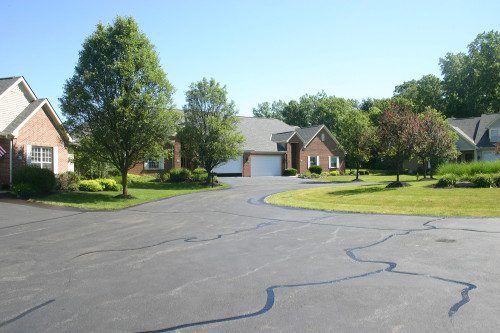 Hawks Crest Development Entrance Before Asphalt Sealcoating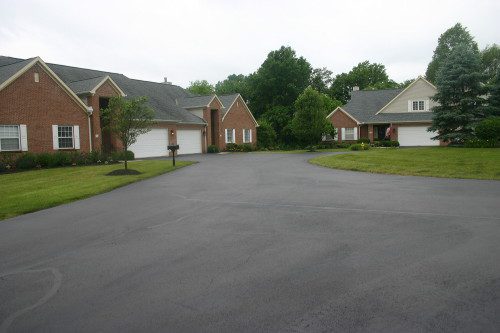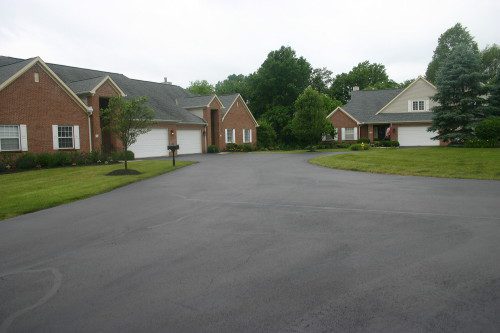 Hawks Crest Development Entrance After Asphalt Sealcoating
If you are looking for reliable sealcoating company that has a reputation for great services, contact Jet-Seal today. We have an  A+ rating with the BBB and have earned the Super Service Award from Angie's List three years running. Call Jet Seal today 614.882.6000
Jet Seal Residential and Commercial Sealcoating –  Blacklick Ohio