Residential Driveway Sealing in Columbus
The Jet-Seal process is built on customer satisfaction and principles of quality and value.
To initiate the process call us or fill out a "quote request" today. We will provide you with a detailed written quote at no cost whatsoever. If you agree to move forward we will:
We'll start by trimming the grassed edges of your driveway, allowing us to seal the edges of your driveway where deterioration usually starts…don't worry; our sealer will not harm the grass.
Next, to assure proper adhesion, we'll thoroughly clean your driveway using a combination of wire brushes, and commercial air forced blowers.
Wet fluid stains will be treated with a primer to promote adhesion and deter bleed through.
We barricade your driveway with banner tape and ask you to stay off the asphalt for 24-48 hours. (Please dispose after proper drying time).
Jet-Seal, family owned and operated since 1958 is committed to providing you with top notch quality. Our residential sealer is the very same that we use on shopping malls and other commercial properties. We staff courteous and professional people whose goal is to deliver outstanding results and ensure your satisfaction. has earned an A+ rating. Angie's List has recognized Jet-Seal with their highest rating including multiple Super Service Awards.
Jet-Seal may or may not offer the lowest price but we are certain that when comparing "apples to apples" Jet-Seal offers the best value for your dollar. We don't cut corners when it comes to the quality or design mixture of the product and our experienced applicators are the best in the business. We have several third generation customers who will agree that using our services over an extended period of time will save you money and provide a safer, more attractive driveway.
Your Driveway Needs REPLACED if it Looks Like This: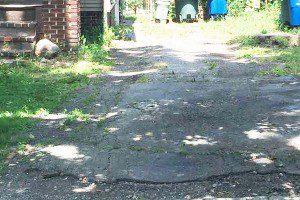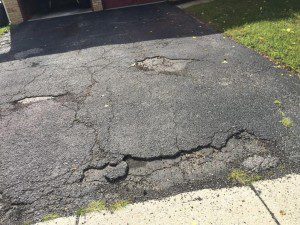 The examples above are driveways that are clearly in need of replacement, because they are beyond broken. There is no question about it, because these driveways are not just "cracked", they are gone. If your driveway looks like one of these above examples, then you should call us to schedule an estimate for a replacement.
Call us or fill out a "quote request" today for a no cost, no obligation quote.
Call Us Today: (614) 882-6000
Residential Service Areas: Columbus – Westerville – New Albany – Lewis Center – Galena – Powell – Dublin – Gahanna – and More!